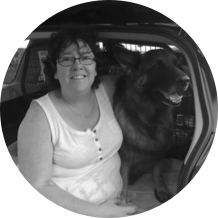 My name is Anne and I'm Nuts about Mutts (but that business name was taken so now I'm just "Nuts bout Mutts"!) 😉
I have worked in the hospitality industry for over 30 years both here in Australia, and in the UK. I am a people person who loves dogs. I am a dog person who loves people. Either way you look at it, I discovered I have a gift for communicating, dog to human, or human to dog. And communication is the key. Dog's do talk – but only if you know how to listen. I can teach you how to listen to what your dog is telling you, and help you create a relationship with your four legged family member that will be the envy of your neighbourhood.
After moving here from the UK in 2011, with my family and my rescued German Shepherd Dog, Max, (who by the way had more issues than "Women's Weekly"), I decided to make it my mission to be a provider of the things I needed most for my dog at the time, and quite simply weren't there. I have years of experience in rescuing dogs and turning their lives around.
I live on the Central Coast of NSW and I can offer you everything you need for you and your dog.
"Nuts bout Mutts" does exactly what it says on the tin and I am committed to providing the best service for you and your dog.
I'm all your dog needs!
For Central Coast Dog Training, Dog Walking, Pet Sitting and Dog Boarding.  From Terrigal to Tumbi Umbi, Wamberal to Wagstaffe, Erina to The Entrance, Holgate to Hardy's Bay, McMasters to Matcham, Killcare to Kangy Angy, Springfield to Shelley Beach, Lisarow to Long Jetty, Gosford to Green Point.